Customer Story: Pre-Hospital Emergency Care Council
Automation of business processes, elimination of paperwork and faster access to key business data reduced the administration workload by 65%.
On average, PHECC is saving over 30 person-hours per week, around 600 person-hours per year, resulting on annual savings of almost €32,000.
The investment was paid back within 12 months since software implementation thanks to increased team productivity, time savings and elimination of unnecessary paperwork.
About

Pre-hospital Emergency care council
The Pre-Hospital Emergency Care Council (PHECC) is an independent statutory agency with responsibility for standards, education and training in the field of pre-hospital emergency care. Its core mission is to protect the public through the promotion of excellence in pre-hospital emergency care.
PHECC Examinations Department is responsible for organising examinations for Candidates who are seeking to obtain PHECC's NQEMT Qualifications (EMT, Paramedic, Advance Paramedic), maintaining complete Candidates data and their examinations history, collecting and processing exam results and cooperating with PHECC's Registrations Department.
PHECC's Examinations Department has identified a number of challenges related with software tools & data sources used to support department's daily operations:
Manual entry and validation of candidates' data (exam registration process)
Manual registration of candidates with independent training centre for MCQ Examinations
Manual creation of candidates taking an OSCE/SWA exams, separately for each RI
Manual exam results recording
Manual validation of Candidates' exam attempts (based on pre-defined rules set)
Separate databases for Candidates, Examiners and Exams Feedback
Manual generation of quarterly and annual stats and KPIs related to exams and exam results

these time-consuming reports are required by the management team to review and monitor the current trends
The Examinations Team determined that the administration work related to organising and managing examinations, candidates & examiners data using inadequate tools was taking too much time and effort to provide a high-quality service to Candidates aiming to obtain National Qualification in Emergency Medical Technology.
The volume of manual data inputs & updates required to keep the critical business data up to date, the costs associated with administration work, the negative impact of high volume of work on staff performance prompted the PHECC's Senior Management to look for alternative solutions.
During the first phase of the project GRIP created a complete documentation of PHECC Examinations Department's internal processes & workflows. This provided a solid foundation and understanding of how the Team is operating internally and communicating with external stakeholders as well as an opportunity to optimise processes before a single line of code has been written.
During this phase GRIP designed a software focusing on automation of optimised business processes. GRIP was able to automate a significant amount of tasks and activities that had to be done manually including complete elimination of Candidates' data entry, validation and verification of required training completion criteria, communication with Candidates, exams registration and exam results processing.
Moreover, the software provides the team with a comprehensive set of Reports that are available instantly, with a single click of a button; previously they were collated manually using multiple sources of data - a very time consuming and exhausting work.
The dedicated Examinations software system GRIP designed and developed for PHECC reduces weekly administration workload by 65%, which accumulates to 30 hours per week. It eliminated unnecessary paperwork, optimised & streamlined Candidates' exam registration process and automated exams results processing. Furthermore, the Examinations Team can easily and quickly produce statistical reports related to exams and results.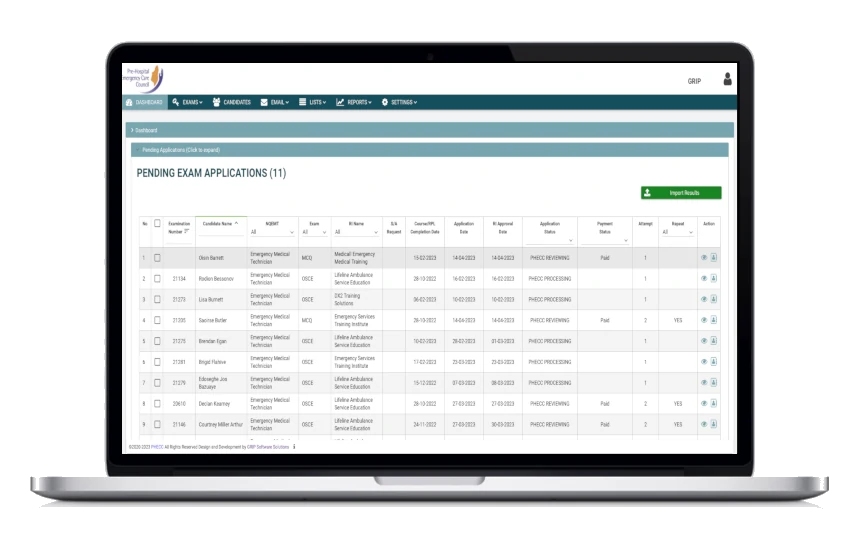 We are absolutely delighted and inspired with GRIP Software Solutions. It really is a one-stop-shop with all the solutions we needed to manage our candidates, examiners, and training providers. Using this system to collect payments has been a great new feature. Our reporting ability has been significantly simplified.

I would highly recommend GRIP Software Solutions to any other awarding body or training provider. GRIP has a great team of staff dedicated to supporting our needs and adapting to our changes. They provide an excellent turnaround time. Their personal yet professional approach is second to none.
Liz Dempsey
Examinations Officer, Pre-Hospital Emergency Care Council
Get in touch to see how Custom Software can help you today!