Optimised business processes and improved communication with all stakeholders results in reduction of administration workload by 60%.
Automation of business processes and elimination of paperwork allows Leaflet Company to save 43 person-hours per week.
The investment in custom software solutions was paid back within 6 months since implementation thanks to significant workload reduction and time saved.
About

Leaflet Company Ireland
Leaflet Company Ireland is one of the leading leaflet distribution companies in the Republic of Ireland and Northern Ireland. The company provides a full spectrum of solutions, fulfilling a wide array of leaflet distribution requirements.
The company developed complex business processes required to support internal business operations, including receiving and accepting leaflet distribution orders coming from the customers, planning and monitoring distribution activities and providing reporting to customers.
Leaflet Company's sales & distribution planning team was struggling to keep up with the daily administration workload. The team has developed a number of ad-hoc tools, using spreadsheets, to help them deal with the level of work. However, these tools were not integrated and were rarely synchronised. This made it difficult to track progress of delivery orders and generate real-time reports.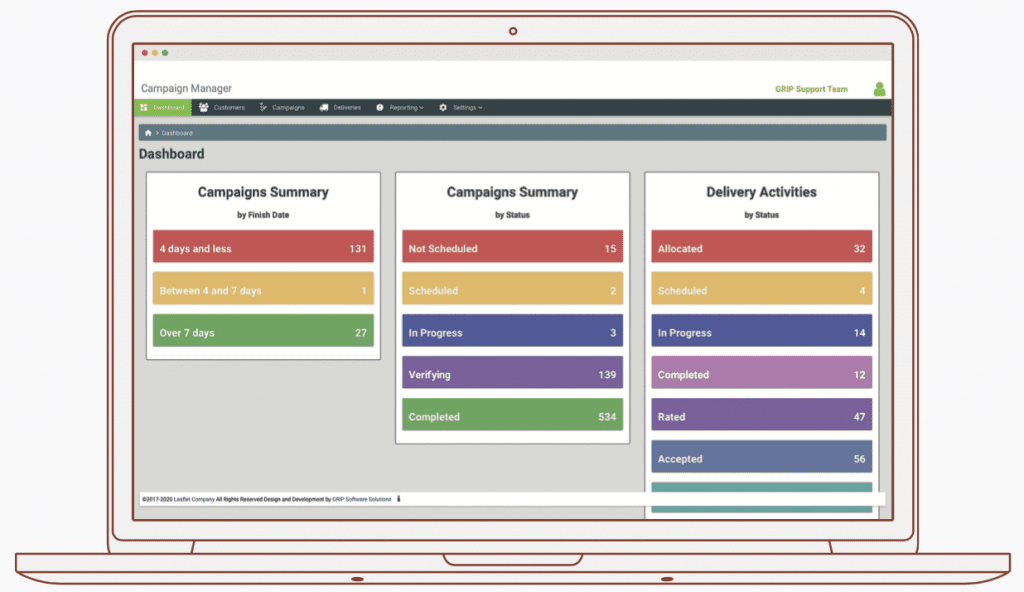 As a result of the manual workload, the management and customers always received reports with significant delays. Creating reports on key performance indicators, such as profit and loss reporting, was also extremely time-consuming and challenging.
The management team estimated that the staff was wasting around 40 person-hours per week manually processing customer orders and planning the distribution work. The operations team was also spending 16 person-hours preparing work-in-progress reports to customers and 12 person-hours per week creating business performance reports.
Overall, the business was wasting on average 3,500 person-hours every year on work and effort that could be completely automated. Assuming the value of an hour at €20, the cost of additional and unnecessary work accumulated to over €70,000 per year.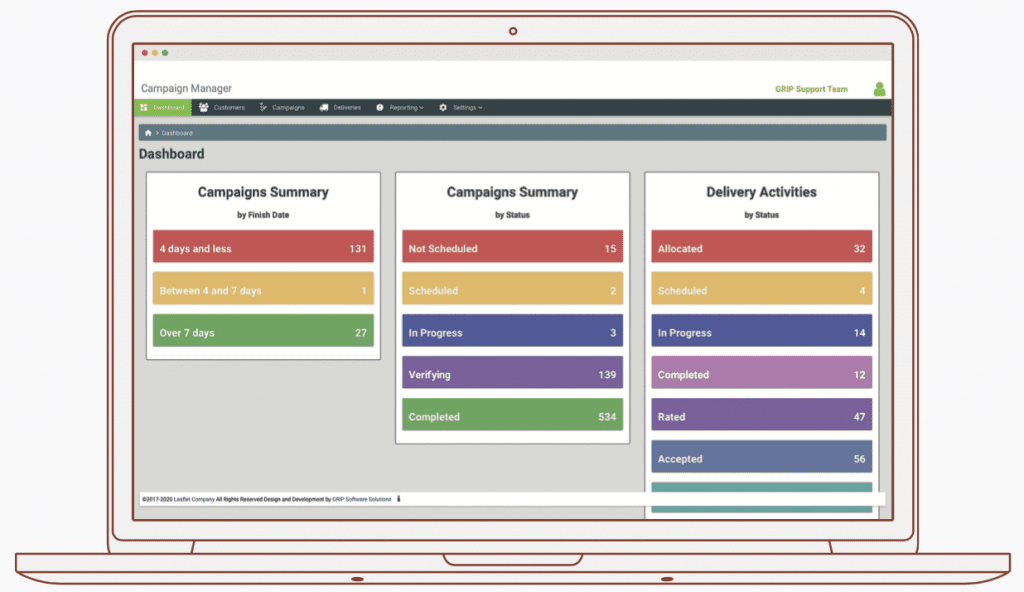 GRIP Software Solutions designed and developed a custom software solution that automated core business processes and allowed a significant reduction in administration workload. The solution centralised data, eliminated data duplication, and automated report creation. In addition, the software provided the customer with number of benefits, including:
Improved efficiency: The software has helped the company to streamline its business processes and improve its overall efficiency.
Increased accuracy: The software has helped to reduce errors in order processing and delivery.
Improved visibility: The software provides the company with real-time visibility into its operations, which helps the company to identify and address potential problems quickly.
Increased scalability: The software is scalable, which means that the company can easily add new features and functionality as needed.
Reduced administrative workload: The software reduced the company's weekly administrative workload by 43 person-hours per week, down to 25 person-hours – a workload reduction of over 63%. On an annual scale, this means the company is saving over €44,000 every year.
Improved customer communication: The software helped the company to improve its communication with existing customers. The company is now able to respond to customer inquiries more quickly and efficiently, and to provide customers with real-time information about their orders.
Increased repeating orders: Improved customer communication has led to an increase in the level of repeating orders by 25% in 2019.
Payback period: The investment in the software was paid back within nine months.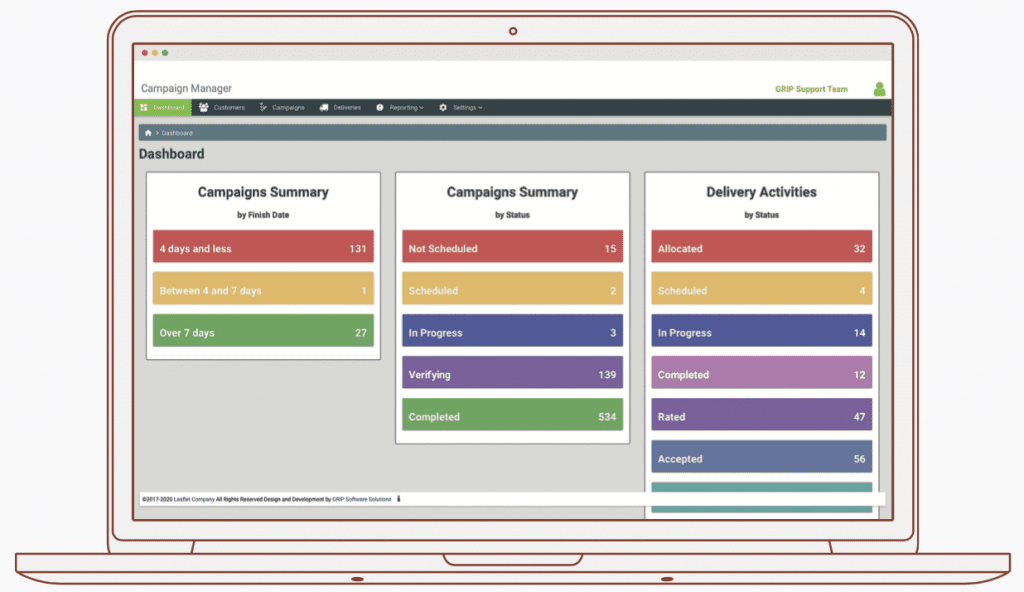 The software solution developed by GRIP has helped the customer to reduce its administrative workload, improve its customer communication, and increase the level of repeating orders. The investment in the software has been paid back within nine months.
Do you experience similar challenges?
Schedule a free consultation today to learn more about how GRIP Software Solutions can help you develop a custom software solution that will transform your business.
We recognised our business is going to grow over the next few years and decided we need adequate and robust tools and systems, that will enable and support this growth.
Leaflet Company engaged with GRIP Software Solutions to streamline and automate our internal business processes. The team at GRIP understood our working procedures and processes in no time. They designed and developed a software solution that made a significant difference and positive impact on our internal business operations. As a result, our Operations Team works much more efficiently; we improved communication with our Customers and have much better visibility over business performance.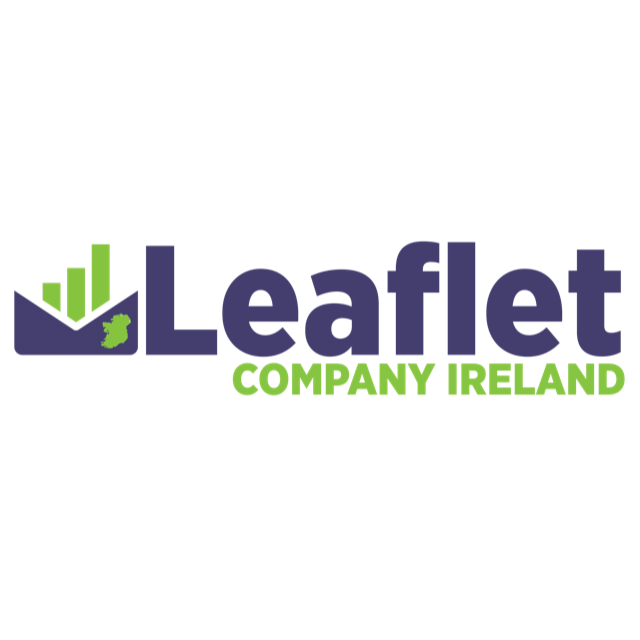 Declan Keane,
Managing Director, Leaflet Company Ireland
Get in touch to see how Custom Software can help you today!