Customer Story: Advanced National Training Services
Automation of business processes and improved access to critical business information reduced the admin workload by 70%.
On average, ANTS are saving over 80 person-hours per week resulting on annual savings of almost €58,000.
The investment in custom software solution was paid back within 9 months since implementation thanks to significant workload reduction and time saved.
About

ADVANCED NATIONAL TRAINING SERVICES
Advanced National Training Services is a nationwide training provider delivering quality training on-site and at their training centre; the Company provides a wide spectrum of training programmes & courses including, among the others, IPAF MEWP, forklift,  shunter operator track, harness safety and work at height. The Company prides itself on results-driven, high quality of training provided.
Every week ANTS are providing approximately 80 training courses, but their admin team was struggling to manage business operations with inadequate software tools and ad-hoc databases.
The team relied heavily on complex Excel spreadsheets to store critical business data, such as course details and pricing, customer and learner information, payment records, course completion data, and instructor credentials.
The surge in business growth led to a significant increase in administrative workload, estimated at over 120 hours per week by the Senior Team.
Considering the average cost of a person-hour at €15, the cost of the admin work reached €1,800 per week, or €86,400 per year (48 weeks). The team's heavy reliance on manual data inputs and updates made it difficult to keep the business data up to date, negatively impacting staff performance and business margins. Moreover, the limitations to business growth prompted the Senior Management to seek alternative solutions.
To develop a customised software solution for ANTS, GRIP Software Solutions first gained a deep understanding of the company's internal business processes, current workload, and future growth plans.
With this knowledge, our team was able to identify areas for optimization and design a software system that could automate many of the manual tasks previously required.
The impact of the new software solution was significant, streamlining ANTS' business processes and increasing overall efficiency, specifically:
Instructor availability management:
The software solution allowed ANTS to manage instructor schedules and availability seamlessly resulting in significantly reduced the time and effort previously required to manually coordinate instructor availability, leading to increased efficiency and faster response times.
Certificate generation
Automated certificate generation enabled ANTS to produce high-quality certificates quickly and efficiently and eliminated the need for manual certificate creation by 90%, freeing up resources to focus on high-value tasks.
Certification expiration date tracking
The software solution provided ANTS with an automated system for tracking certification expiration dates. This eliminated the need for manual tracking, reducing the likelihood of expired certifications and improving the quality of courses offered.
Learner data management
ANTS were able to efficiently manage and organise learner data, enabling them to provide better customer service and respond quickly to learner needs.
Course attendance recording
The software solution enabled ANTS to automate course attendance recording, which reduced the time and effort required to track attendance manually which helped ANTS improve its course reporting and tracking.
In addition, the customized software developed by GRIP Software Solutions integrated seamlessly with ANTS' external accounting software. This integration streamlined financial processes and eliminated the need for manual data entry, reducing the likelihood of errors and saving time.
The software also provided Management Team with a comprehensive dashboard reporting critical KPIs, enabling them to monitor the company's performance in real-time and make data-driven decisions to improve their financial performance
The custom software solution we developed for ANTS had a significant impact on their business operations.
By automating many manual tasks and streamlining business processes, we were able to reduce the weekly administration workload by almost 70%, or 80 hours per week. This resulted in annual cost savings of over €57,000.
But that's not all. Our solution allowed ANTS to increase their business capacity without having to hire additional staff. By providing them with a powerful tool that improved efficiency and productivity, ANTS was able to take on more business and continue growing.
Overall, the software solution we developed for ANTS provided significant cost savings and increased efficiency, as well as gave the Senior Team the ability to scale-up their operations and achieve sustainable growth.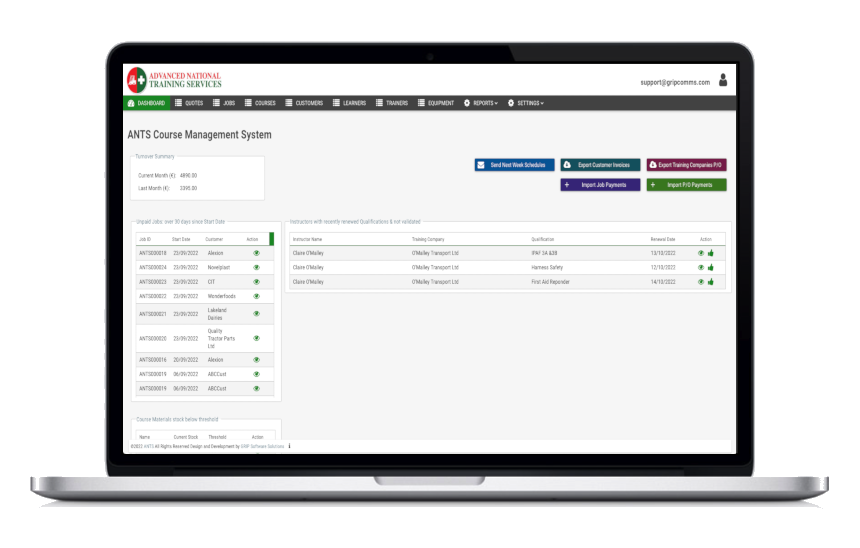 Over the last number of years our Company has grown significantly, and the tools we were using to organise training courses & programmes and run the company operations became inadequate. We've got to the point where we could not accept more business as we were simply lacking the capacity - our team was stretched to its maximum. We have decided to partner with GRIP Software Solutions and build a dedicated software application that would automate & simplify our admin work and prepare the Company for future growth.
The results are incredible! The team at GRIP have designed a software solution that exceeded our expectations. Our administration work has been reduced by 70% - our team does not waste time on unnecessary tasks and we have more time to better support our customers and improve the quality of our services, which we recognise as a key factor of our success. The software provides us with real-time reporting on critical business KPIs - something that was not possible before. Integration with accounts package and seamless data flow eliminated the need to key-in the same data multiple times into other apps.

Claire O'Malley,
Managing Director, Advanced National Training Services.
Get in touch to see how Custom Software can help you today!