Customer Story: Be Independent Home Care
Weekly administration work related with creating schedules and reporting was reduced from 72 person-hours to 12 person-hours.
Reduction of administration workload was possible through automation of business processes and resulted in annual savings of €30,000.
The software allowed Be Independent to grow their customer-base by 300% over the period of 3 years since software implementation.
About

Be Independent Home Care
Be Independent Home Care is a private home care provider operating in Dublin and surrounding areas. The company provides quality support and care at home to elderly or unwell people.
In 2013 Be Independent employed around 30 professionally trained and highly experienced nurses and carers providing support and care to about 60 clients.
The office staff at Be Independent was creating work schedules for carers manually, using word and excel documents. This administration work had to be done by two full-time employees. It was taking them  3 full days each & every week week.
In addition, detailed reports had to be prepared for customer invoicing and employees' payroll. This information was collated manually from paper-based work schedules from the previous week and took an extra day per week.
These tasks were so complex and so important to the company that the owners themselves were doing them, which affected their ability to take on more customers. Subsequently business growth was severely impacted.
Together with the client, we calculated that the total annual cost of these activities executed mainly by the business owners was just above €40,000.
GRIP designed a software solution that streamlined & automated the process of creating and managing the work schedules. In addition, the system provides instant reporting for invoicing and payroll.
There is no processing of paper-based worksheets and collating information using spreadsheets.
This information is imported into third party payroll and invoicing systems without the need to manually enter this data again. Over time system has been expanded by additional functionality including:
Recording of carer annual and sick leave helping the Care team to organise care cover in case carers are on holidays or out sick;
Carers' training records and notifications to Care team about upcoming training renewals;
Carers Portal for carers to sign in and review their schedules;
Automated notifications to carers when their schedules have changed;
Carer availability search based on qualifications required, area covered, time availability;
Timesheets submission by carers;
The most important benefit is the time freed up for the business owners. Without the need to spend hours on creating and validating work schedules and collating reports for invoicing and payroll they could focus on developing and growing their business.
As a result, as of 2018, the company provides services to nearly 360 customers and manages 180 carers.
The workload related with work schedules creation was reduced from 48 man-hours per week to 12 man-hours per week. As all data is stored in a robust database system, the reporting effort was completely eliminated, as all reports are available to users and business owners instantly.
Be Independent estimates that the software saves the company on average €30,000 per year.
By designing and developing the bespoke software solution we helped to grow Be Independent's customer-base by 300% since the software implementation.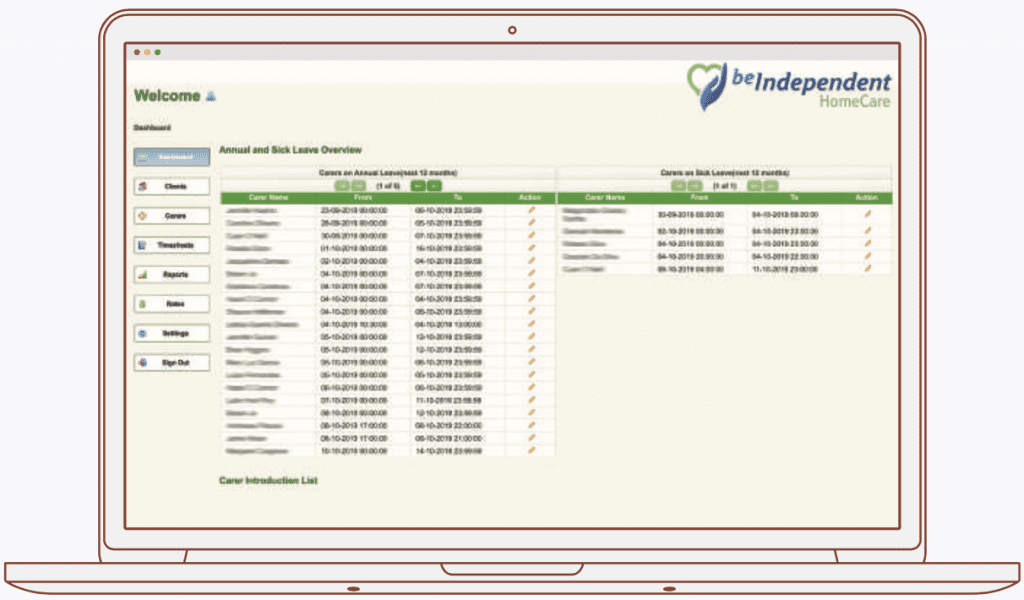 We estimate the overall savings in time and administration workload amount to approximately €40,000 per year, every year.
The custom software solution has paid for itself in just half a year since its implementation. We have no doubts that the software built for us by GRIP Software Solutions plays a crucial role in helping us to grow the business by approximately 40% every year since 2013.

Caitriona O'Donovan,
Managing Director - Be Independent Home Care
Get in touch to see how Custom Software can help you today!